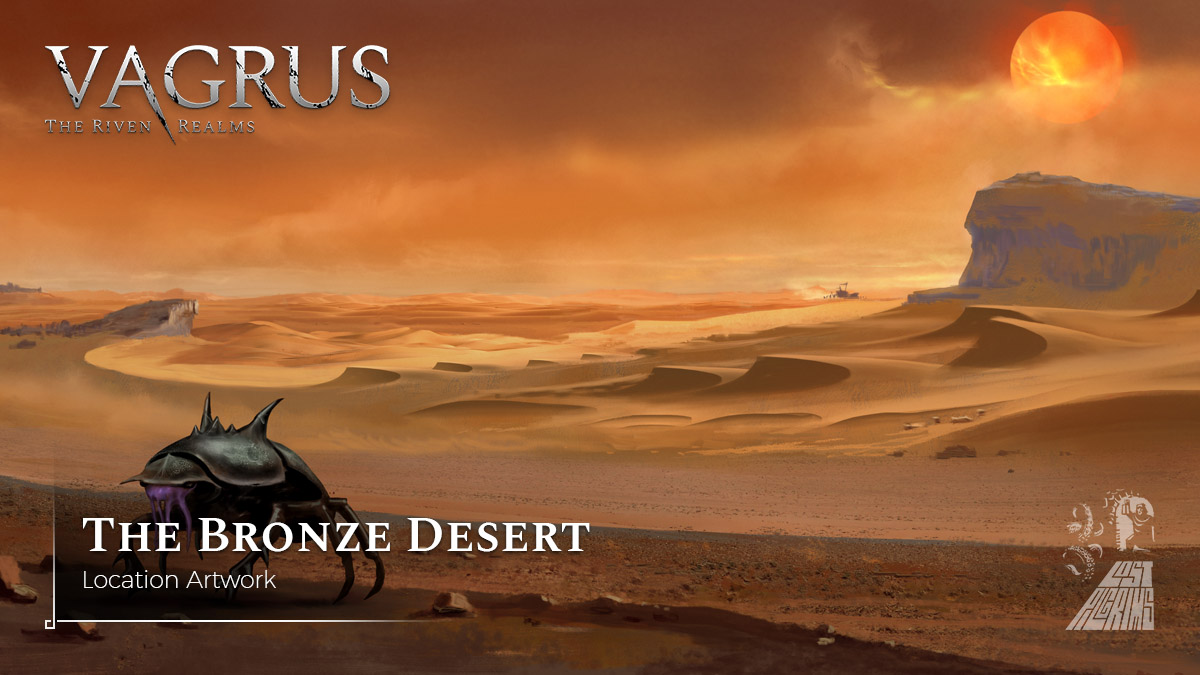 As we approach our expansion's release, the teasers become more granular – but as today's post would indicate, more expansive, too. We're stoked to show off the key art for the Bronze Desert and delve into a few of the details regarding the lands. If you're interested in what we've been working on, or if you've simply been following along, then you know full well that the events of the expansion take place in the Bronze Desert, called thus for its orange-hued sands.
But what is in these lands aside from sprawling deserts? Much is the answer, dear vagrus, much indeed. The Bronze Desert is home to the native Bandul, while both the Chimera Legion and the Handjari are present as well. All three number among the newest factions in Vagrus for those who choose to pick up the expansion, in which the conflict between the insurgent Ahari and the Empire's Chimera Legion takes center stage. Have a look here, at our latest devlog post for a more thorough breakdown.
As for landmarks, settlements, or points of interest, the Bronze Desert has many. Chief among these are the many oil fields that dot the landscape, or the oft-wartorn oases like Hakhtarast. We'll not list them all here – that'd take too long – but rest assured, there is a wealth of things to do in the region.
Will we see you there in the future? We sure hope so, as our team has poured a ton of time and energy into creating an expansive dark fantasy environment, further building a setting with a unique atmosphere. Until then, stay safe, stay vigilant, and conquer the wasteland!
– The Lost Pilgrims Team
Steam | GoG | Discord | Patreon | Youtube | Twitter | Facebook | Instagram