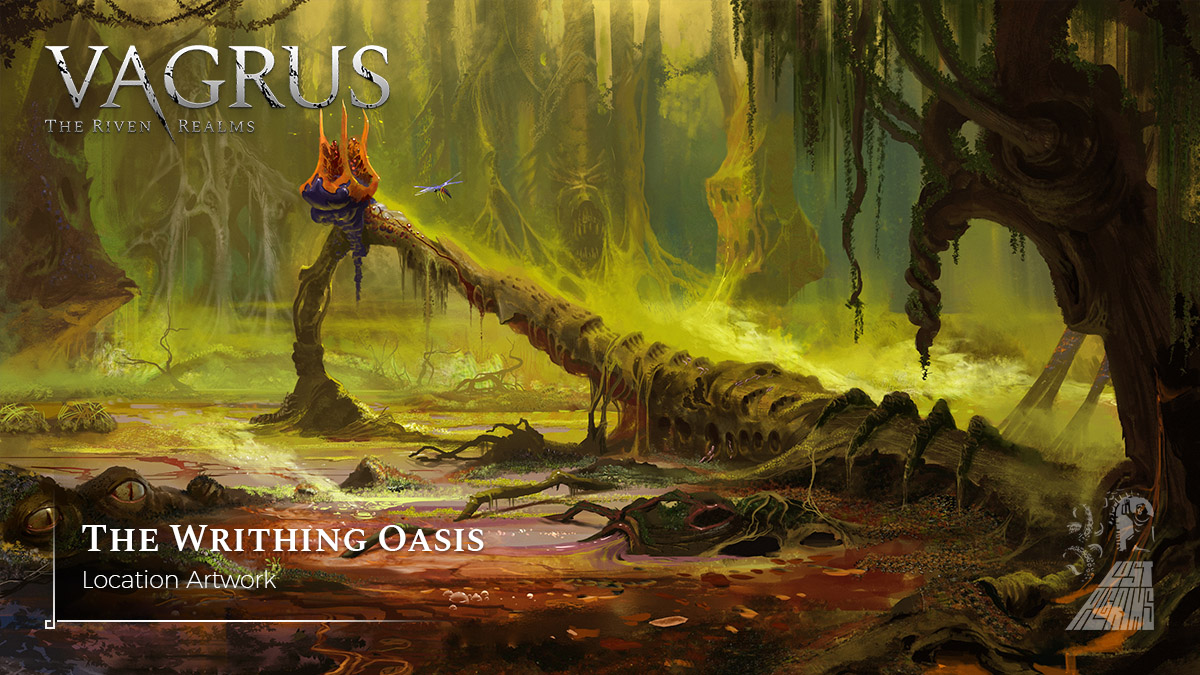 'This place is death.'
- Thula, apprentice shaman, upon entering the Writhing Oasis for the first time
Even among an abundance of amazing artwork pieces that we are lucky to have in Vagrus, the one depicting the weird and disgustingly beautiful Writhing Oasis is an exceptional one. Anyone who has seen the art of Péter Kovács, our amazing location painter, will know that he is quite at home when it comes to working on dark, haunting, or corrupted landscapes, while biological abominations are especially dear to his heart. Entrusting him with the Writhing Oasis - a cursed grove around a tainted pond that grew together to create a single deadly organism - was a no-brainer, and the result speaks for itself. I love all the little details and the strong call-back to Warhammer artwork.
This time, I would refrain from giving away too much about the location and its lore, because discovering it for yourself in game is quite an awesome sequence. Check it out for yourself in the current build... if you dare!
Geri, Lost Pilgrim
--------------------------------------------------
Our crowdfunding campaign is LIVE at Fig.co. Get instant access to the Early Access now!
--------------------------------------------------
Wanna get the game as early as possible with even more content? Please share our pages and posts with your friends through your favorite social media channel(s). Appreciate it!
Steam | GoG | Discord | Patreon | Youtube | Twitter | Facebook | Instagram