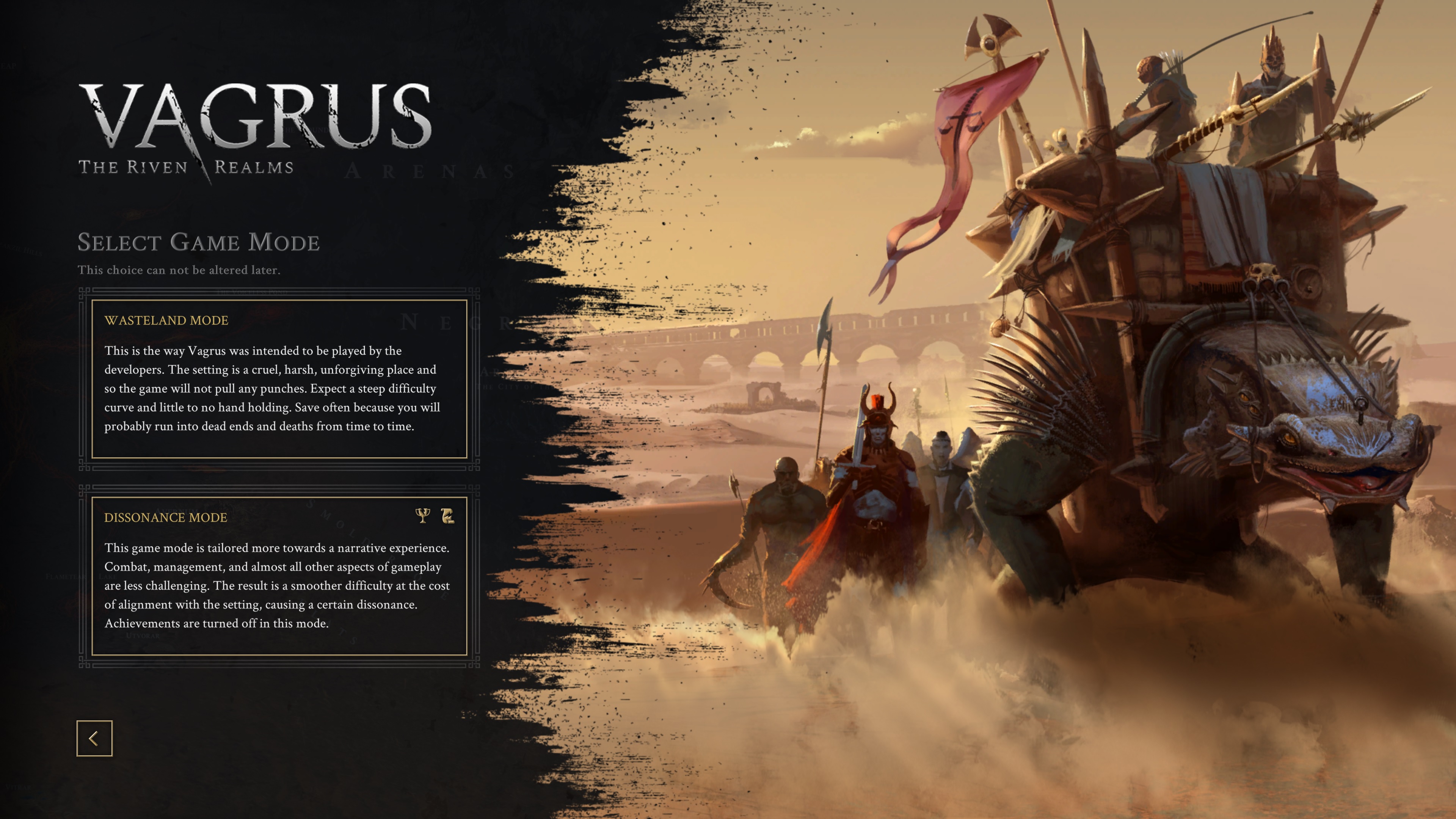 What is this 'Dissonance Mode', you ask? Essentially, it is a game mode you can select when starting a new game and that shifts the experience toward a more narrative route, easing up on the management and combat mechanics to transform Vagrus into more of a visual novel for those that find the challenge too taxing.
We decided to include this game mode due to player feedback, but the decision to do so was not an easy one because we dreamed up Vagrus as a game that fits its setting: a cruel, harsh, merciless world that pulls no punches but once the challenges presented by it are conquered, the sense of accomplishment would be all the more satisfying. So if the world is presented as savage and unforgiving while the difficulty is lower, it can easily cause what is called ludo-narrative dissonance, which in the broadest terms means that what you are told in a game does not match what you play.
This kind of dissonance has been reported by a number of players in times when more experimental patches caused the economy to pour money on enterprising vagri. Most of this feedback described the lack of challenge and the resulting tension, which caused the dissonance, eventually leading to players abandoning a playthrough.
However, not everyone is looking for the same thrills when they play video games, and those players that do not enjoy the tactical combat or the strategy aspect of managing resources and logistics will ultimately feel that they want to delve into the world but not at the cost of a steeper learning curve. Well, Dissonance Mode is tailored for them. The list of what entails an easier playthrough is not final yet and will probably change quite a lot until final release. We'll see what to add partly based on future feedback.
In general, Dissonance Mode will come with easier combat challenges and more forgiving economy, allowing players to explore more freely. However, with the removed challenge comes the removal of Achievements, too. It is our hope that those who still wish to earn these badges will get practiced in Dissonance Mode and then go on to enjoy the full experience that we'll now call Wasteland Mode.
There is, of course, the possibility that a number of players choose the mode that is not suited for them consistently, causing them not to enjoy the story without the challenge in Dissonance Mode or become disheartened by the cruelty of Wasteland Mode, but our hope is that in the end, more of them will find the right alternative in the two modes available.
Dissonance Mode is soon to be added to the game and we are looking forward to your feedback on it. Until then, stay tuned, stay safe, and conquer the wasteland!
The Lost Pilgrims Team
--------------------------------------------------
Our crowdfunding campaign is LIVE at Fig.co. Get instant access to the Early Access now!
--------------------------------------------------
Wanna get the game as early as possible with even more content? Please share our pages and posts with your friends through your favorite social media channel(s). Appreciate it!
Steam | GoG | Discord | Patreon | Youtube | Twitter | Facebook | Instagram