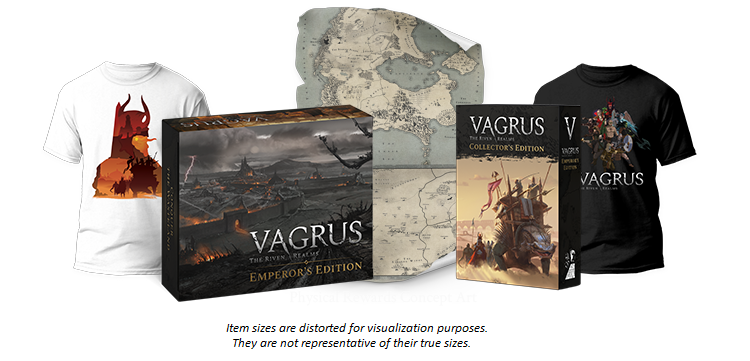 We've reached a point in the design of the physical rewards of our crowdfunding campaign and related merchandise that we decided to reveal what these items will look like. This includes a cloth chart, two kinds of T-shirts, and the two physical editions (Collector's and Emperor's Editions - more on their contents in a future post).
The Chart of the Continent of Xeryn
The cloth chart might be worth a little extra explanation. Originally, we planned on releasing it as a square-shaped map with the continent of Xeryn on it. As we started to create the image for production, we kept going back to it with 'let's add this settlement' or 'tweak that region name', until the point it was just way too crowded. Then we realized that we can only do it justice if we add another section zoomed into the play area of the game, so that we can show all we wanted there and keep the continent image clean and nice looking. Thus, the final sizing for the chart will be 46x82 cm|18x32 inch (standing).
T-shirts
We decided to go with two designs - one is more abstract, placing familiar images of the wasteland and the title art onto a silhouette of good old Sedarias. The other one has the companions on a superhero-like poster posing together.
Special Editions
For now, we wanted to show the box designs, which are 99% final. As for their content, you can check our fig page, but we'll post about them soon separately, too.
We sincerely hope that you guys like the designs as we have put a lot of work and thought into them. We'll post updates as production progresses. Stay tuned and conquer the wasteland!
- The Lost Pilgrims Team
--------------------------------------------------
Our crowdfunding campaign is LIVE at Fig.co. Get instant access to the Early Access now!
--------------------------------------------------
Wanna get the game as early as possible with even more content? Please share our pages and posts with your friends through your favorite social media channel(s). Appreciate it!
Steam | GoG | Discord | Patreon | Youtube | Twitter | Facebook | Instagram