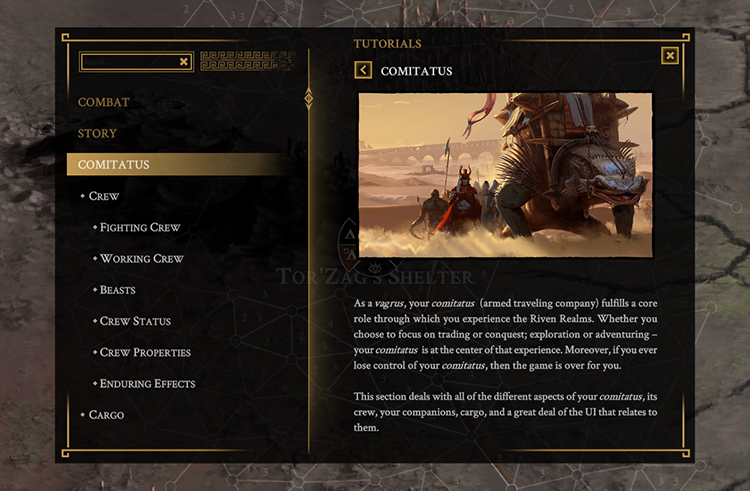 Hello everyone,
Revamping campaign map movement and scouting into a sleeker system allowed us to move on to something else our players have expressed their need for. Many of you wanted more information and clarity on gameplay mechanics to be able to better understand its complexity – rightly so. That is why we are publishing a Beta version of the new Glossary. This feature doesn't deal with content, but is aimed at clarifying game mechanisms and UI segments. It is accessible in the game by pressing 'G' or clicking on the eye icon in the top-right corner of the screen.
The Glossary is structured into seven main categories representing the main facets of Vagrus's gameplay mechanics. These categories are Story, Combat, Comitatus, Factions, Trading, Settlements, and Campaign Map. All of them have subcategories, which in turn have their own subcategories, making the Glossary appear in a three-tier structure. Thus, when you browse the Glossary, you can read more about a certain topic by navigating to subcategories, after which you can easily get back to higher levels.
Furthermore, entries contain references to other entries of relevance. You can just click on a highlighted word or expression to navigate to its entry. There is also a search function that comes in handy when you know what you are looking for, but you're not sure where to find it.
As stated above, the Glossary is still very much in Beta; by no means do we consider it final. Therefore, we would appreciate your feedback so that we can improve its usefulness to players.
Check it out, stay tuned, and conquer the wasteland!
The Lost Pilgrims Team
Steam | GoG | Discord | Patreon | Youtube | Twitter | Facebook | Instagram