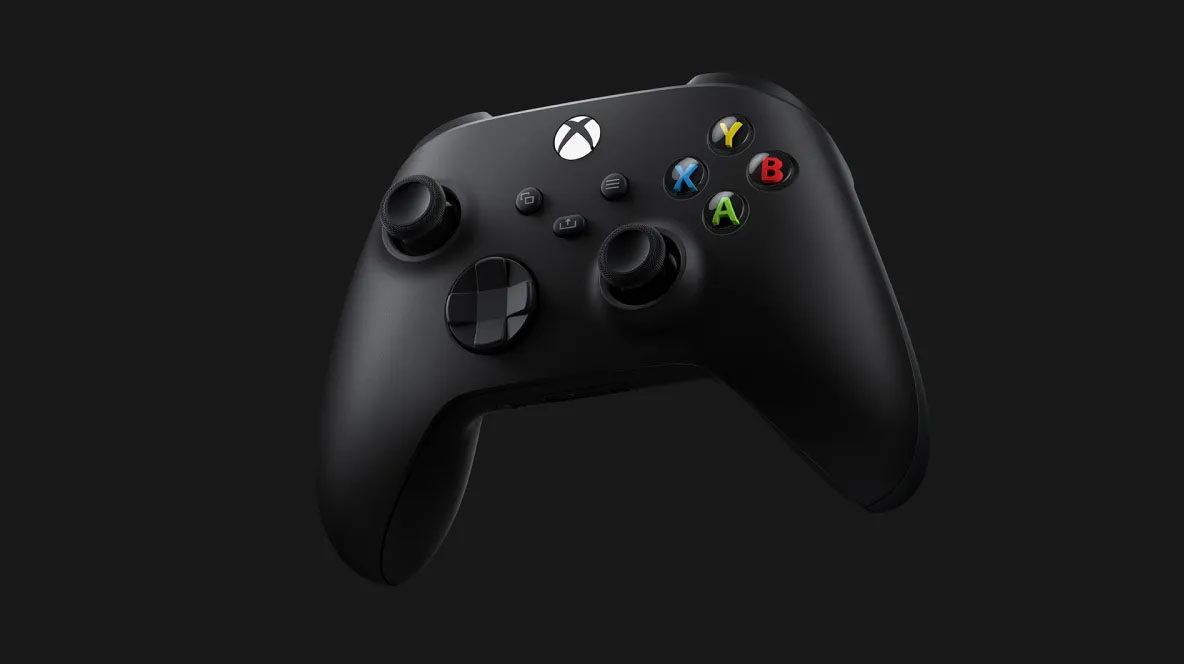 Hey everyone,
Today we are releasing a large patch with features that we've been talking about for some time, most of which are a reiteration from the post we released about a public Beta weeks ago. With that Beta now over, you can now scroll down to see all of the details regarding our implementation of full controller support, UI and text zooming, improved initial game loading times, and much, much more. Alongside these, we have also implemented a new pop-up window for players to see what's new when they load up the game, and a DLC catalog, which lets you see what content you already own, as shown below.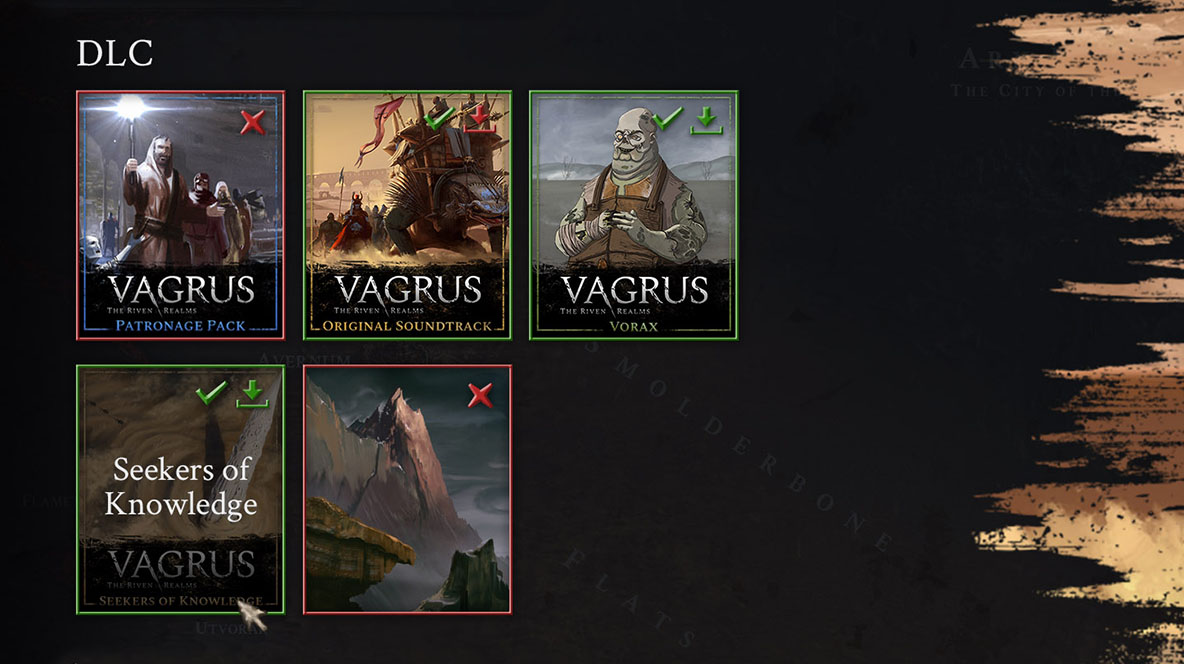 Indie Cup Celebration 2023
As part of our recent participation in the 2023 Indie Cup and this patch's release, we will be offering a 28% discount on Vagrus - The Riven Realms between the 22nd and 27th of February. So, if you have a friend who has been waiting to buy the game at a discount, now is the time!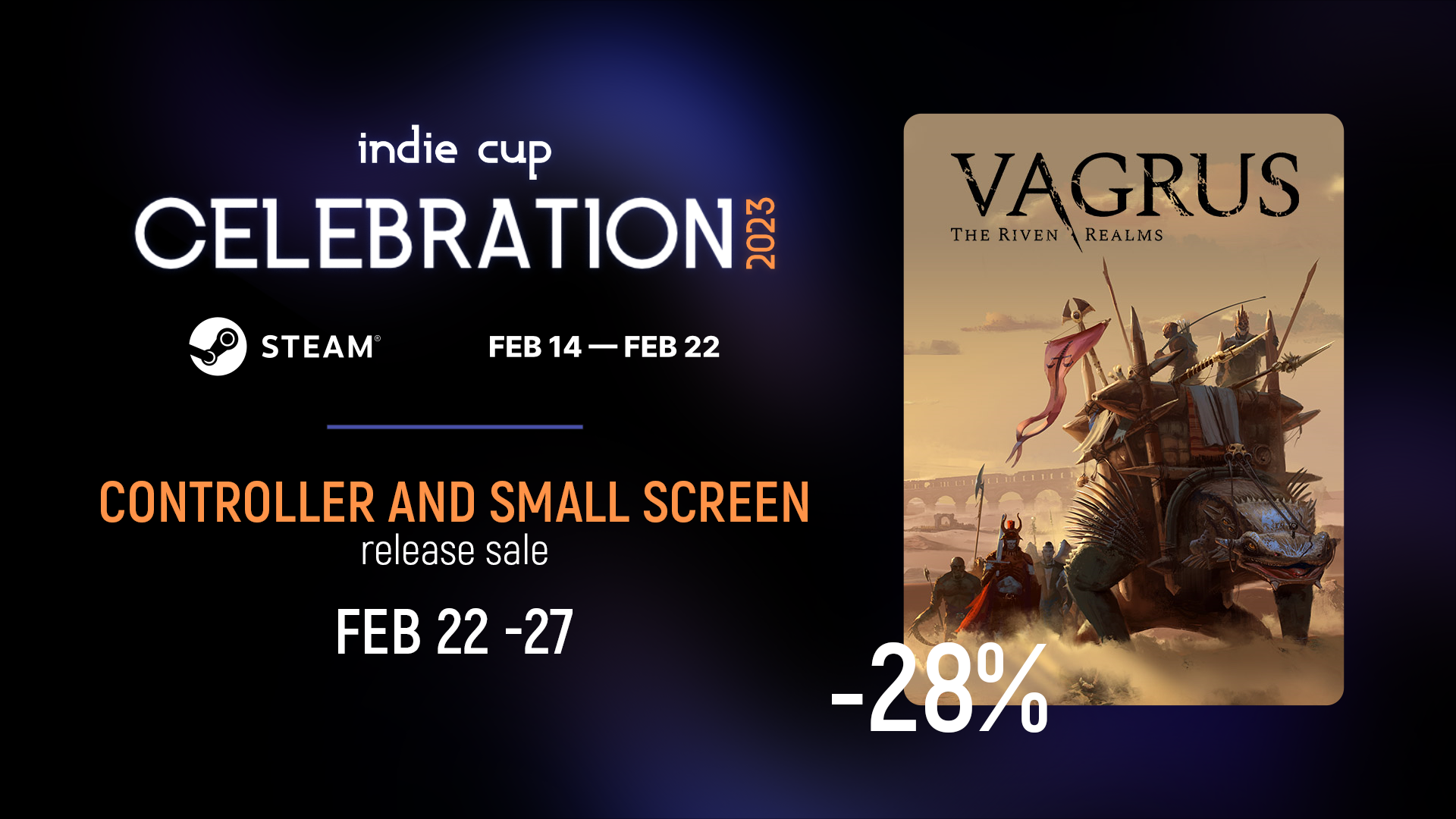 Hand-held Porting, Screen Optimization, and Accessibility
We're proud to finally release what our best and brightest pilgrims have been working on here at Lost Pilgrims Studio. The first major change is porting.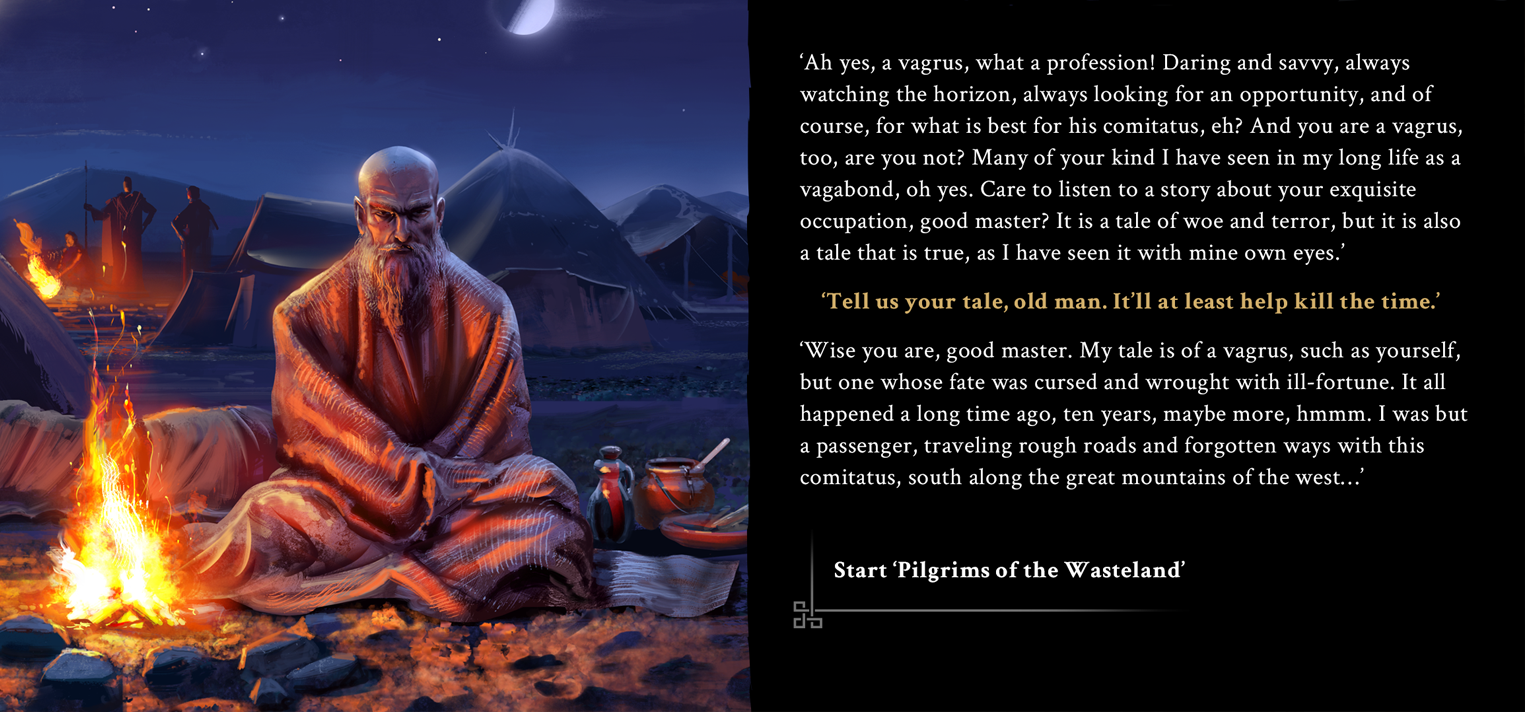 Included under porting is the optimization of Vagrus for all mobile devices, tablets, and, of course, the recently released Steam Deck. Naturally, the main goal of these projects has been to bring the game to a larger audience; an audience that can play on the move, which certainly suits turn-based games such as our own.
Another key aspect it has allowed us to address is accessibility. Players have, at times, expressed concerns about the font size in Vagrus, and with us focusing on porting, we have also been able to implement a zoom feature for the PC client. We are still in the process of fine-tuning and fully integrating the feature, but we are confident that in doing so we will improve user experiences across the board.
First, we optimized the formatting of the text to be legible on handheld devices. But is it possible to read all the wonderful prose that players have come to expect from the Riven Realms on a small screen, you ask? Absolutely! Just use the new double-tap to zoom in, as shown below.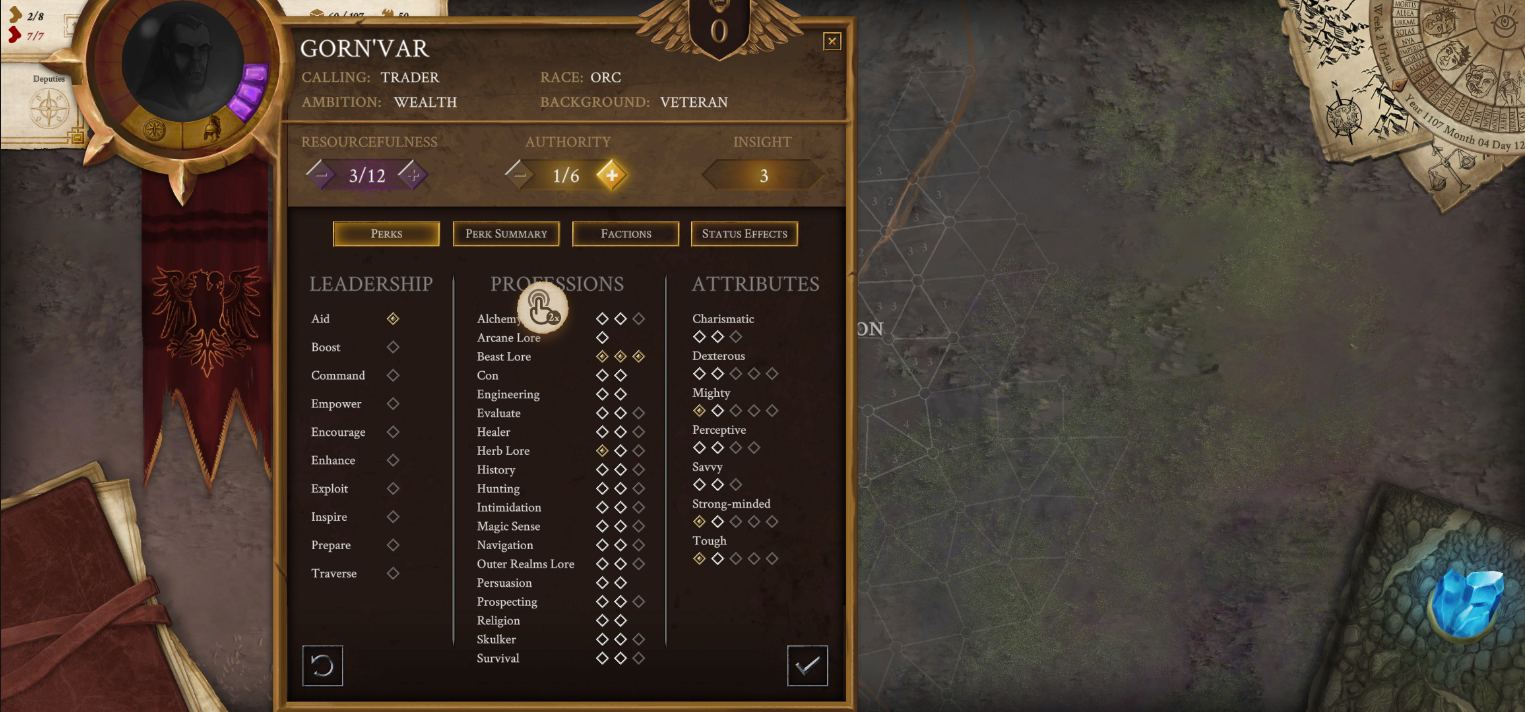 We've also included another screenshot of a closer view – after the player has used the double-tap feature, of course! Check it out below.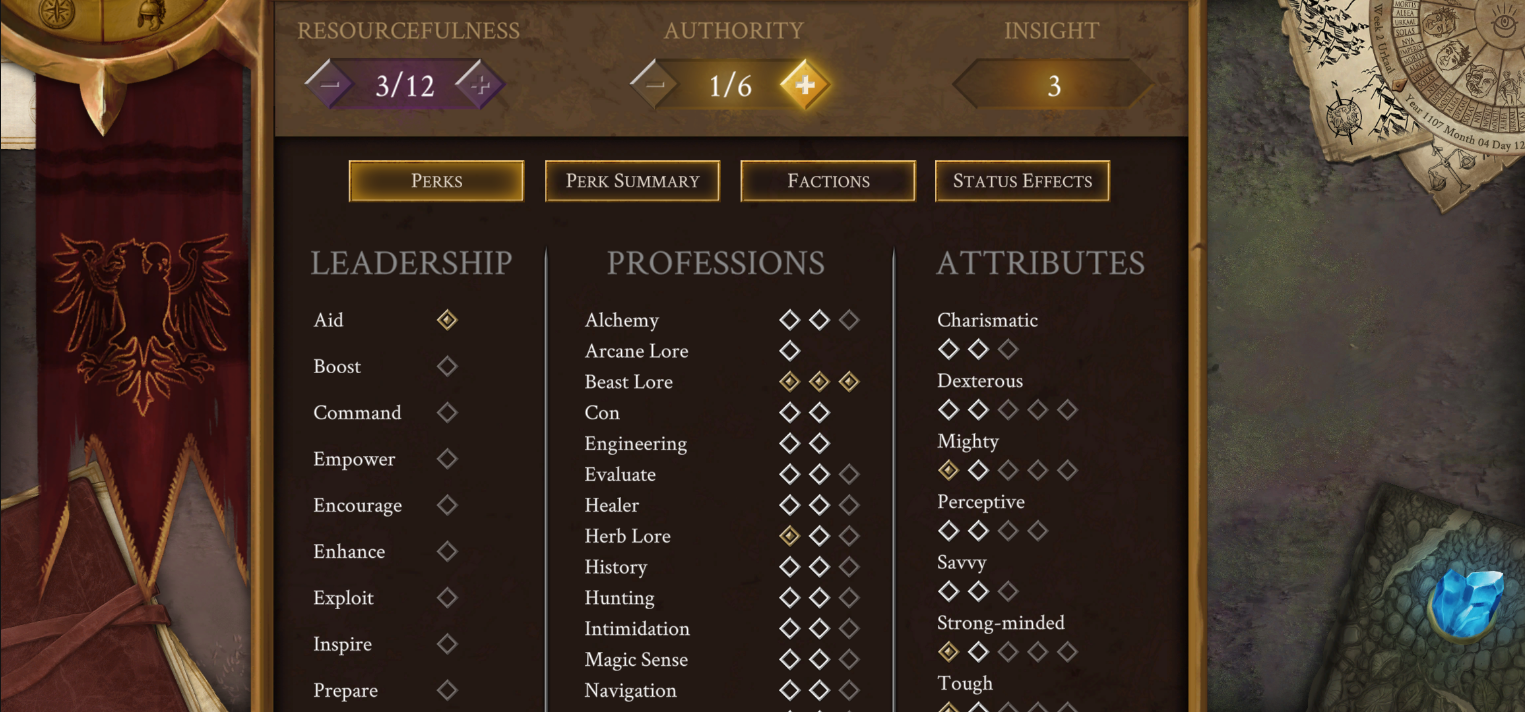 Because we want to make sure that players' user experience does not suffer even slightly while using a small screen, players will also be able to scroll or swipe to navigate the UI, as captured below with the Journal.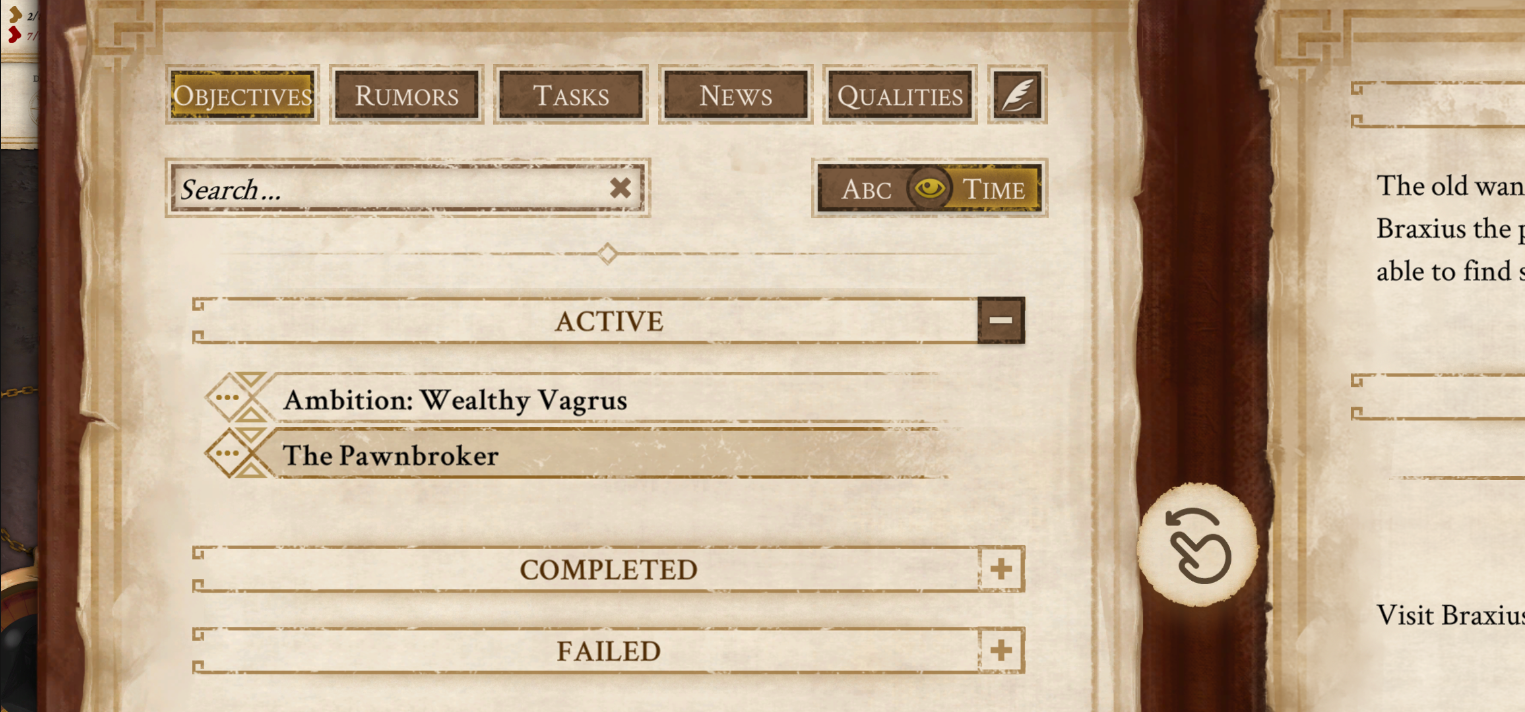 Here's the subsequent result of the player swiping left…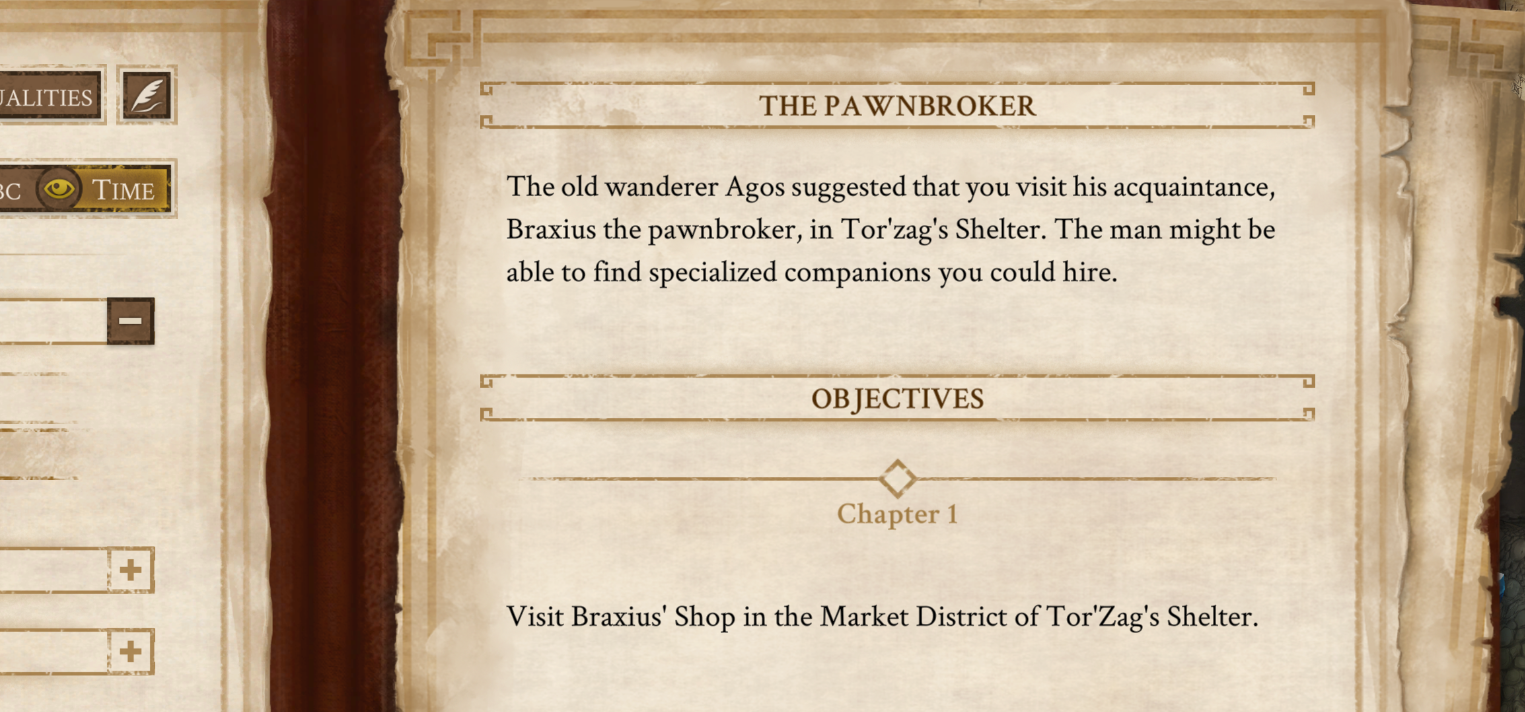 Multi-platform Controller Support
We have now implemented full controller support for standard X-box controllers and Switch gamepad layouts. Although everything should work on most other controllers, assuring that is our future goal and the feature needs to be adequately tested before we can ensure flawless functionality. We have created a modern navigation system on the UI and for all functions from scratch, specifically for controllers. In other words, it isn't simply the existing cursor-based system repurposed for controllers.
Direct buttons have been assigned for specific functions to make things easier.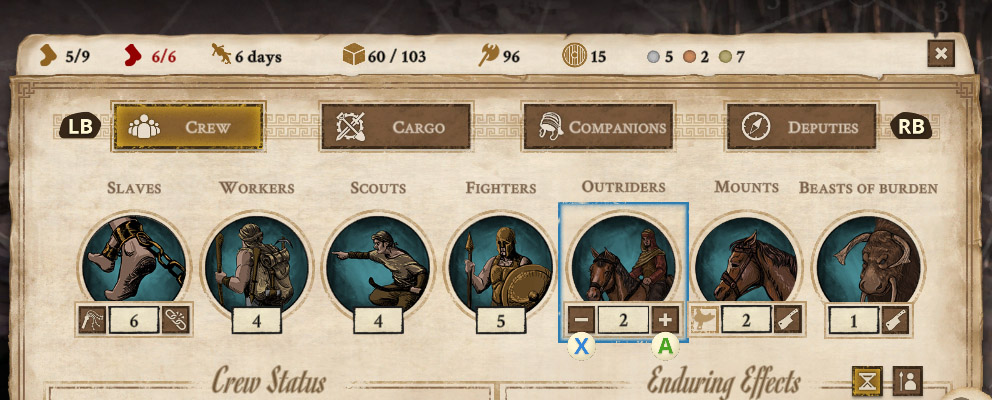 Selecting and switching between UI elements during gameplay is also comfortable.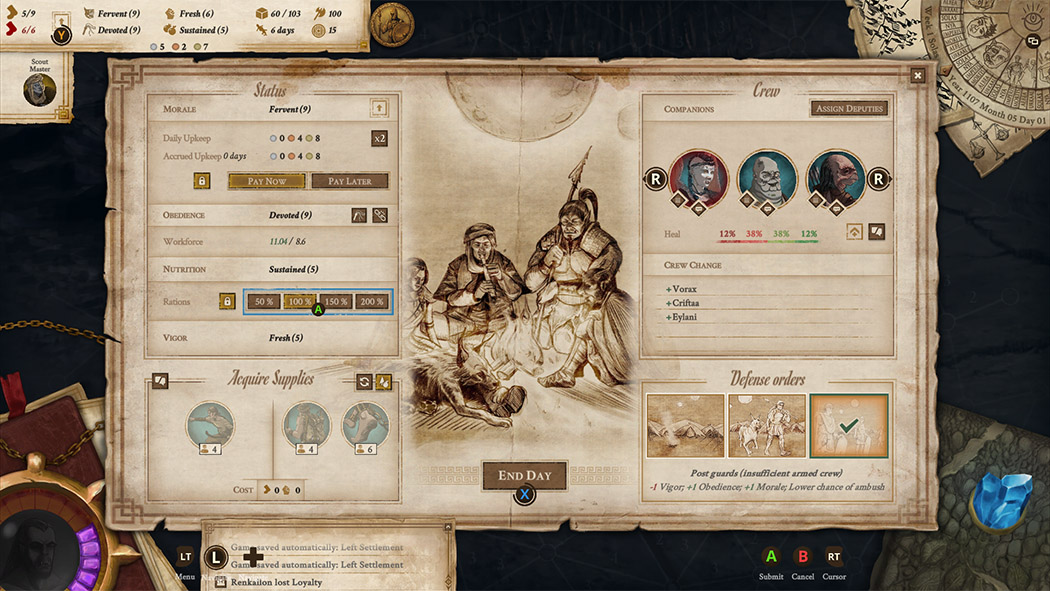 What about analog stick use? We've come up with a radial menu to best tackle that.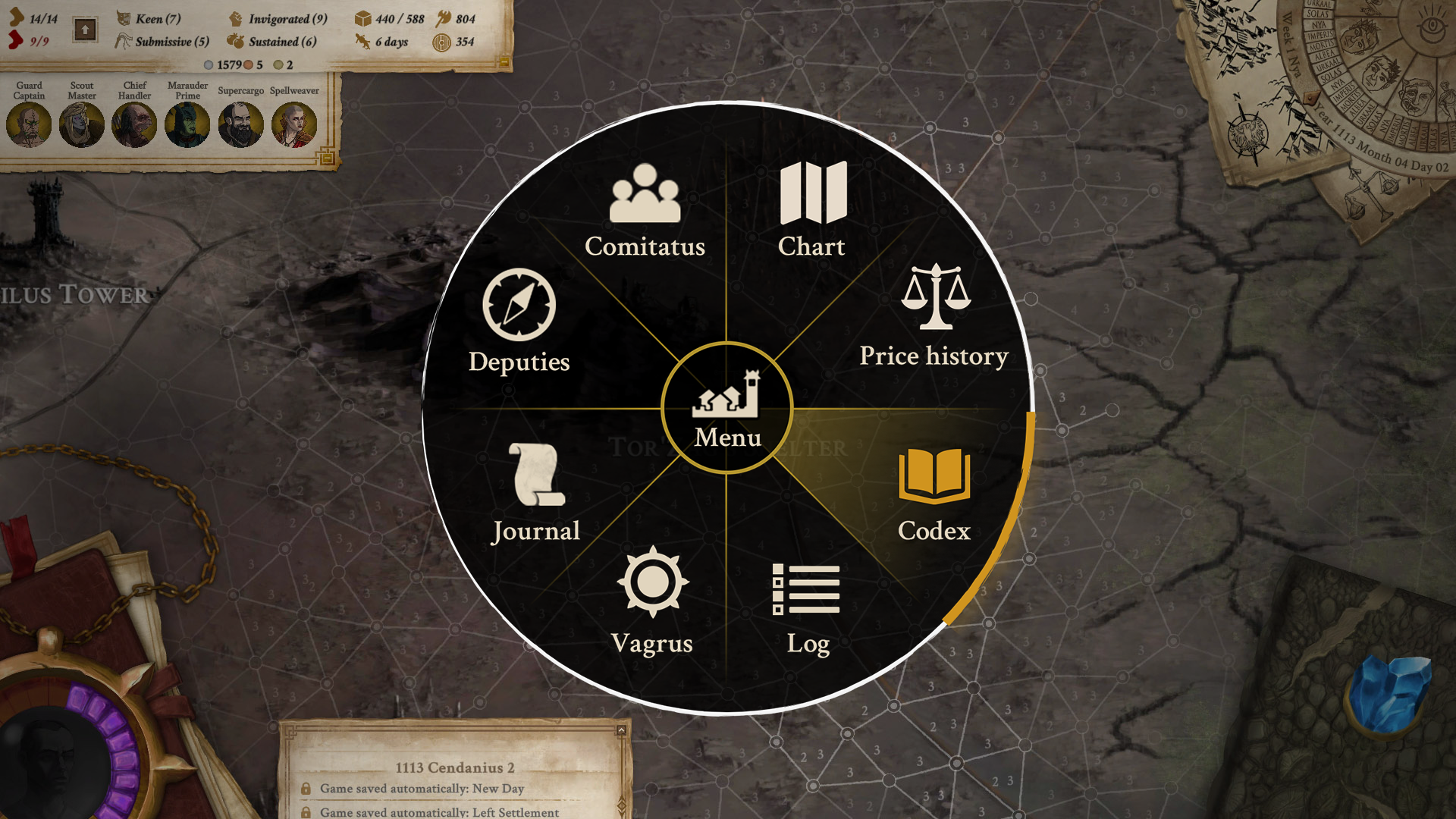 We have also implemented an easy drag & drop system to be used at various points of gameplay.
We have simplified Perk selection and trading functions in settlements, too.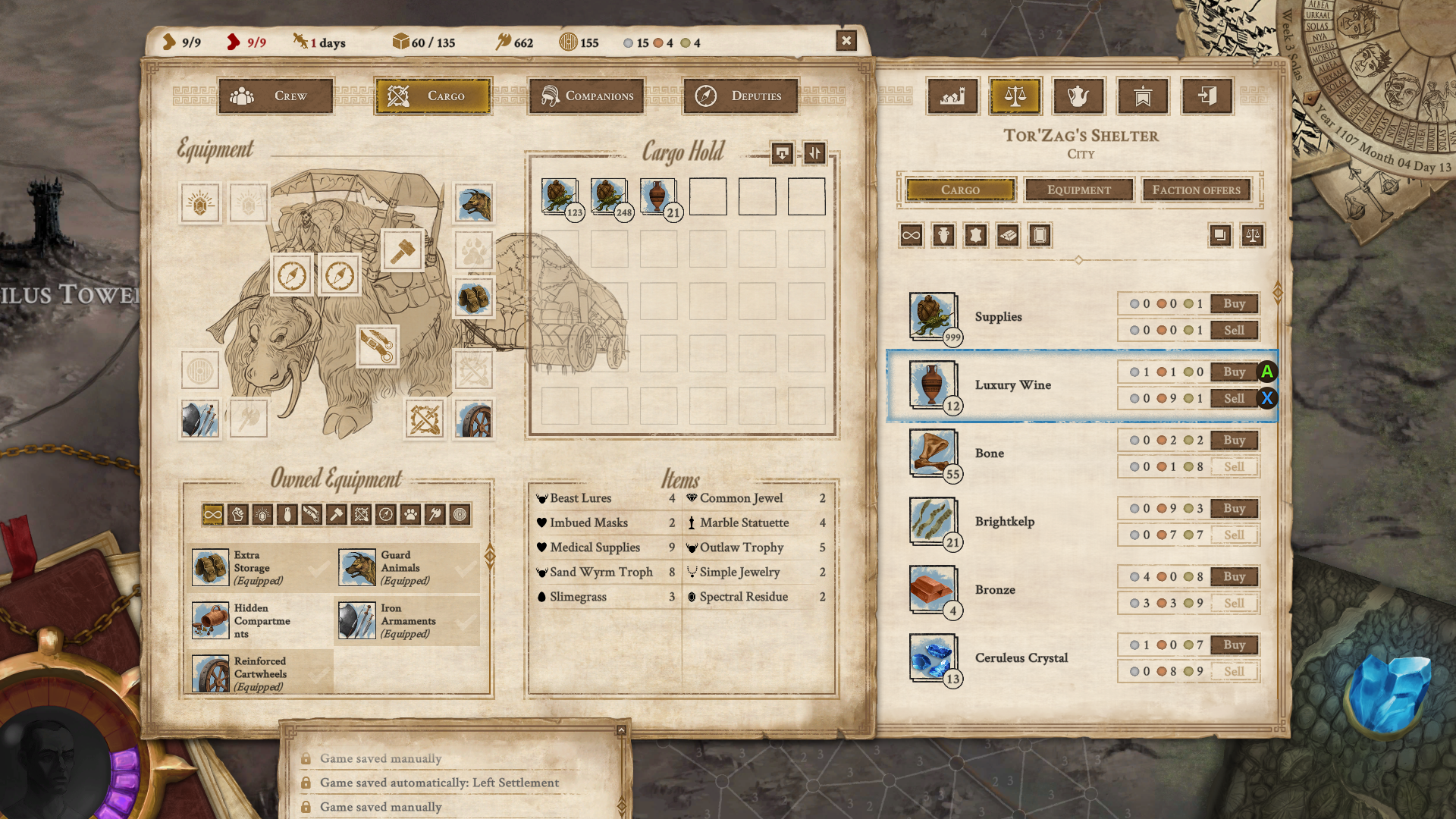 After a long time in development, we are ecstatic to finally release these new features, and hope that they will improve player experiences across all platforms.
Now let's jump into the patch details:
Important Note: Considering the extent of the improvements, there is little to no chance that we broke nothing in the process. Assume that we did not want to make anyone's life harder. If you see something amiss, please flag it to us using the usual channels, like the inbuilt reporting tool (F1 button), forums, and our Discord server.
--------------------------------------------------
Patch notes v1.1300221S - Codename: Magnificatus est Controls
Content Changes (SPOILER ALERT)
Knowledge victory questline: Increased the drop rate for Pristine Crystals in the Crystal Archives
Slightly better price for Spice in Larnak, should you bring some from Tectum Carvos when it becomes available
New/Updated Features
Controller Support! Now you can also use your controller to conquer the wasteland.
DLC status can be checked on the updated Extras screen.
A new pop-up window has been added so you can see what's new in Vagrus.
Dissonance mode has become a little easier.
User Interface Improvements
Revamped Bug reporting screen (and backend integration on our side).
A new, Full UI Zoom feature can be activated in the Video Settings. It makes the game's texts easier to read and manage on smaller screens.
Tutorial windows have been resized and repositioned while UI zoom is active.
Players can zoom in on an active UI window using the UI Zone Zooming feature also found in the Video Settings. UI Zone Zooming has 3 modes: Pinch, Double Tap, and Direct Button.
A button has been added to check the location info of newly acquired Rumors.
We replaced the "Hold Space" text with a button which you can use to go to the next step of the tutorial. You can still hold space as before.
Bug Fixes
The game no longer freezes on the Throw-out pane after a Mount-up + Dismount Outrider combo
Fixed a bug where Movement Points were not refreshed on a new day after inventory overflow
A number of tooltips that were disappearing have been fixed
Predicted Authority can no longer exceed 6
Fixed a bug where Event texts were chopped off on resolutions higher than 1080p (Full HD)
Fixed a bug where the Heat Shielding Crystal was not working in some cases
Some UI inconsistencies in 'Pilgrims of the Wasteland' have been fixed
Reenabled shadow effect on Load Game/Save Game screens
Fixed a bug that caused certain Companion Combat preparation animation phases to be missing
Fixed a bug where the decals of DOT Skills were missing
The name field of the description in Companion Combat is now empty when there's no character to show the description of
Fixed a bug where sometimes the combat background was black if Companion Combat was triggered in a settlement
Finndurarth's missing Skill SFX has been added
Fixed a visual bug where the positions of the frames in the key bindings menu were off
Fixed the issues with the Autoscout feature's chance to find Events and/or fights
Known Issues:
There are still some inconsistencies with UI zooming and the new tutorial windows
Sometimes escort/rescue Tasks do not work correctly
The character sheet pictures are sometimes not correct in Companion Combat
Sometimes Gear is shown to be still used by a Companion who has already left the comitatus
Coming Up Next
Controller support /Beta/ refinements
Obstacles in Companion Combat
Stay tuned and conquer the wasteland!
- The Lost Pilgrims Team
Steam | GoG | Discord | Patreon | Youtube | Twitter | Facebook | Instagram