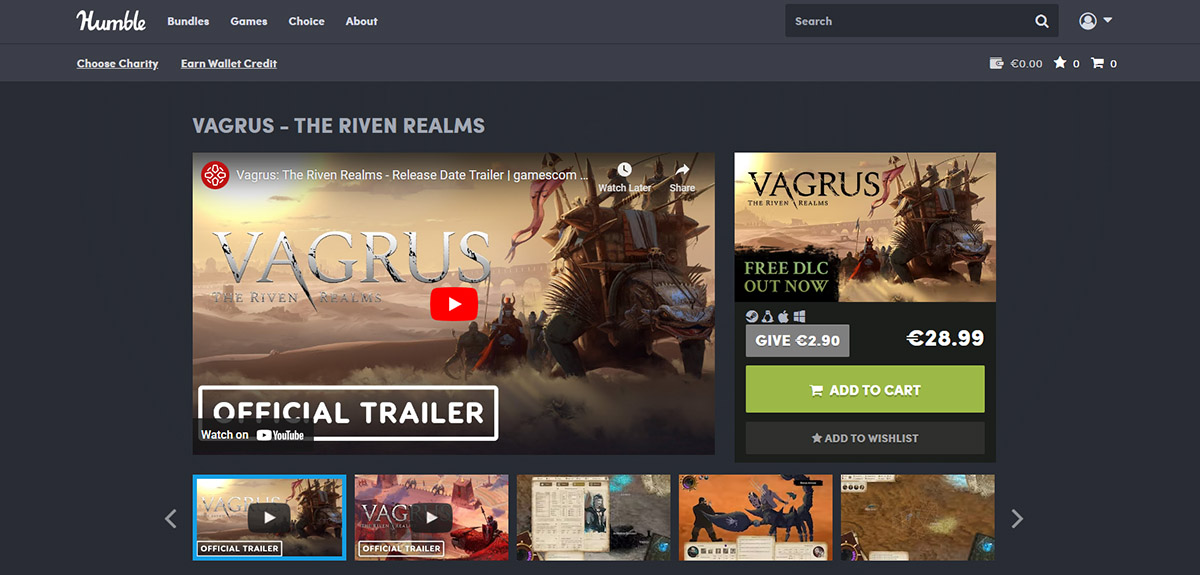 Hello everyone,
Back in December 2021, we posted a project update regarding our high-level plans for this year. One of these grand plans was to get featured on more game store platforms and the great news is that we've finally managed a breakthrough. We are overjoyed to announce that we are coming to the Humble Bundle storefront! Please be advised that Vagrus is not going to be included in any Bundle just yet, though it will be present on the storefront itself. People purchasing the game there will receive a Steam Key.
Humble Bundle has a number of offerings, features, and options apart from regular Bundles. For example, the Humble Weekly Bundle lasts a single week and is based on a singular theme. Humble Flash Bundles last for 24 hours each. With the Humble Monthly subscription fee, where the subscribers receive a curated set of games each month. There are a few other, very intriguing options for people seeking games and good deals. They also have the Humble Store, where we are going to be present. All in all, it is quite a popular place, as many of you may already know.
However, as we have mentioned before, appearing on more digital storefronts is not the only thing we've been working on lately. We are hard at work to bring you small screen and controller support, to enable community localizations, and, among other things, to bring Vagrus to various platforms so it can reach more players. All those will go a long way for us to acquire additional revenue streams that will help us develop the game and the upcoming DLC.
Stay tuned and conquer the wasteland,
The Lost Pilgrims team
Steam | GoG | Discord | Patreon | Youtube | Twitter | Facebook | Instagram