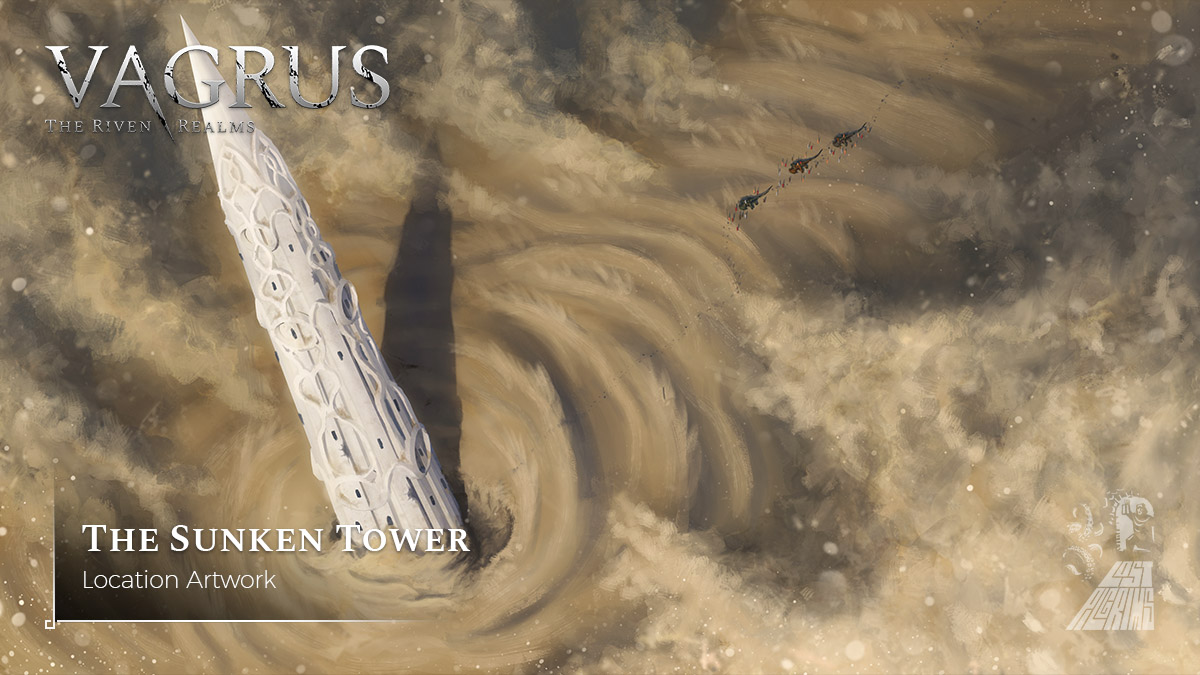 Hey everyone,
We are working on something special for you, especially those who would enjoy picking the Knowledge ambition in a future playthrough. Our next free DLC will feature the Sunken Tower and the Knowledge ambition victory. That's right, you will get the chance to explore that location and in doing so, win the game! Let's look into it, shall we?
Long ago, the Sunken Tower used to be called the Tower of Akarius, named after an ancient Apostle of the Immortal Emperor who founded it. It was a center of learning, research, science, and worship. Elves, Humans, and Dwarves taught everything they knew about the Realms to everyone on a quest for knowledge. Then, the Calamity struck and destroyed the surrounding region, turning it into a desert, and the Tower sank beneath the sands. At least, most of it.
The Tower's present-day reputation is that of a cursed, haunted, and forbidden place. It is extremely difficult to access due to the Voracious Sands, so it is quite unexplored and not a great deal is known about its true nature either. However, the players will be able to unlock its secrets that have been lying dormant for over a millennium. The Knowledge ambition's completion will involve repeated exploration of the maze-like, constantly changing interior of the Sunken Tower as well as gathering a lot of codex entries.
It will not be easy given the dangers lurking in the sunken depths, so you will have to carefully consider how deep you descend and when the best time is for an expedition to be aborted.
Since it's still in the works, the exact release date is still TBA, but it is coming along nicely, so expect a release date to be announced soon. Until then, stay safe, stay tuned, and conquer the wasteland!
- The Lost Pilgrims Team
--------------------------------------------------
If you like Vagrus, please consider sharing our pages and posts with your friends through your favorite social media channel(s). It is much appreciated!
Steam | GoG | Discord | Patreon | Youtube | Twitter | Facebook | Instagram