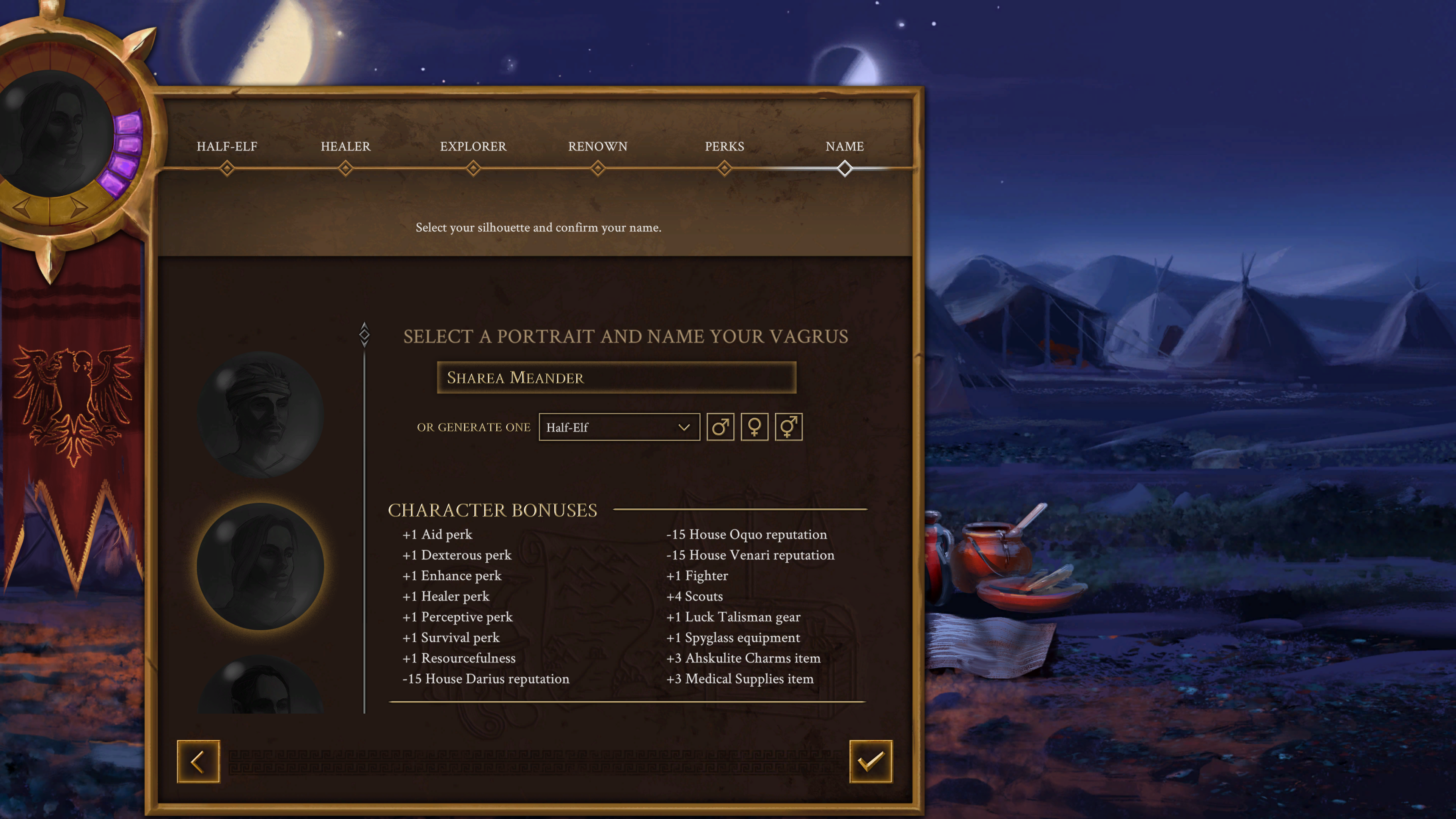 Have you ever arrived at the final step of a character creation screen and felt completely stumped as to what you are going to call yourself in the game? Do you wonder what kind of names would be appropriate for your vagrus based on their background? We've been there, and we get it.
That's why our new random name generator has been a long time coming. Our priorities were two-fold: give options to those who would rather not worry about such matters, and also to allow players some insight into naming conventions in the Riven Realms. This feature will be available with our next build, and you can check out a preview video here.
As you can see, there are quite a few variations. From a lore perspective, we also thought players might like to understand some of the naming conventions in the Riven Realms – especially those that are less than typical or tie into the lore in some intriguing way.
First off, let's talk about the Imperials. It's no secret that the Roman Empire acted as inspiration for them; indeed, this is reflected in both their first and last names, too. We do not generate cognomen (the third, earned name) for Imperial characters – that is left to the player. Conversely, Kalani names are somewhat inspired by ancient Greek names, while Tarkian ones have a tenuous connection with middle-eastern cultures.
Interestingly, last names from Tark such as 'al-Radan' connote the city that that family is from historically speaking, which perhaps ironically is something that Dark Elves also share to some extent, for example using a first name in combination with "of Zhar" to show that person comes from that city state in the Everdark.
The most unique of naming conventions goes to the Orcs, however, whose names tend to be short and contain the name of the parent whose gender their offspring aligns with. In the case of Gor'Goro, this means that his father's first name element was 'Goro', and when Gor'Goro was born, he took that as the second part of his original name. You can find many examples in-game, and one below too.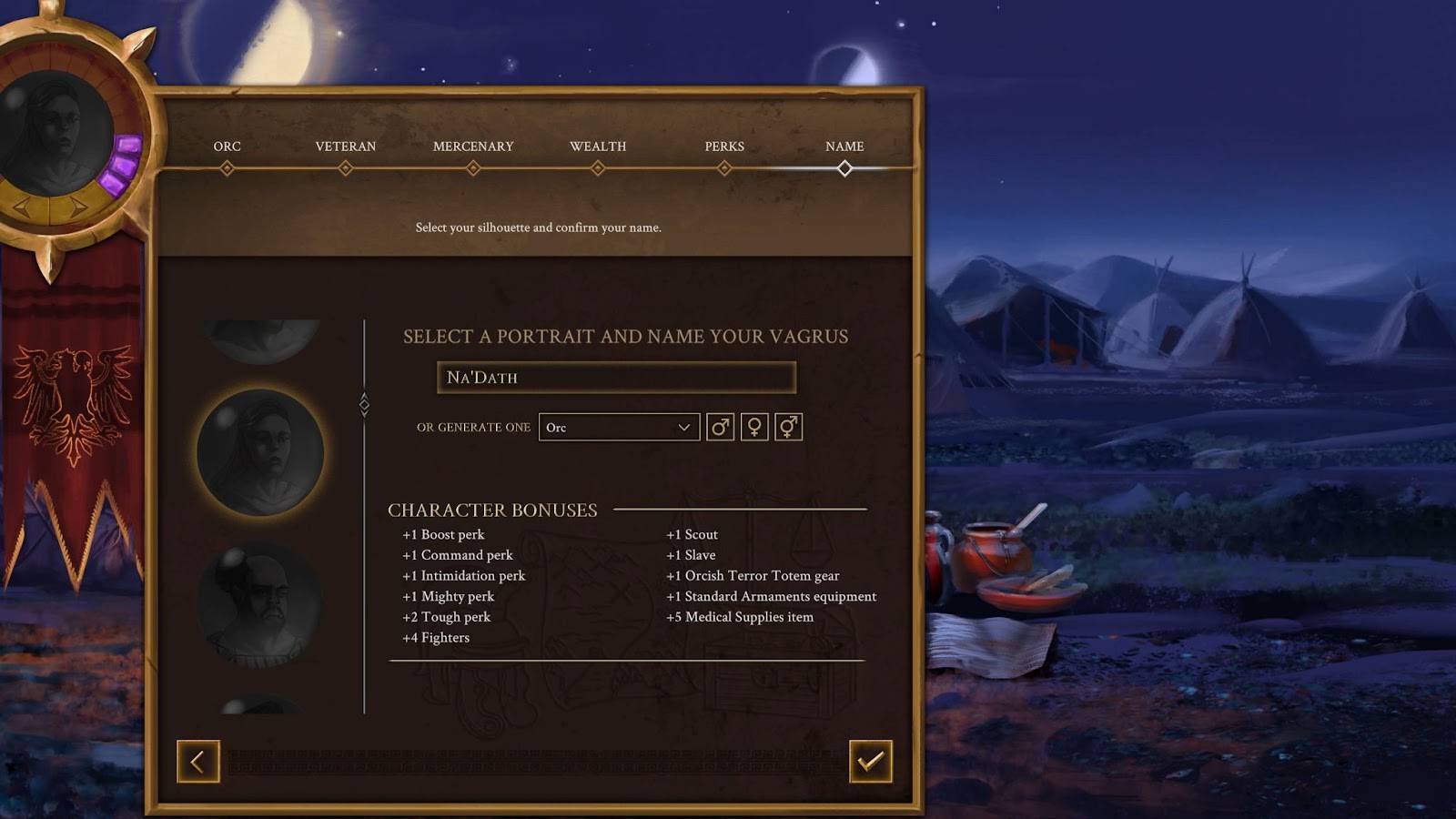 Next, we have Dwarves and Half-Elves, both of whom also have unique naming conventions, which fall outside of traditional fantasy tropes. Dwarves only take a first name – after the Calamity struck and the Dwarven kingdoms were all but destroyed, many of the race were disillusioned and jaded, which meant that most Dwarves cast off their family names and turned away from matters associated with them. Half-Elves, on the other hand, take last names that are connected with their proclivity for wandering and the road – with some of their ilk taking no last names at all.
Finally, there are Demonkin and the Dajmahans, who also use just first names. Demonkin names have roots in a variety of historically mythological places, while for Dajmahans, being mostly a jungle-dwelling people, we took name inspiration from traditionally African names.
Naturally, all of these traditions and developments relating to the races of the Realms have been incorporated into our name generator, and we can't wait for players to experiment with it. Moving forward, we have many more plans in the pipeline for the future; so as always – stay tuned and conquer the wasteland!
- The Lost Pilgrims Team
--------------------------------------------------
If you like Vagrus, please consider sharing our pages and posts with your friends through your favorite social media channel(s). It is much appreciated!
Steam | GoG | Discord | Patreon | Youtube | Twitter | Facebook | Instagram