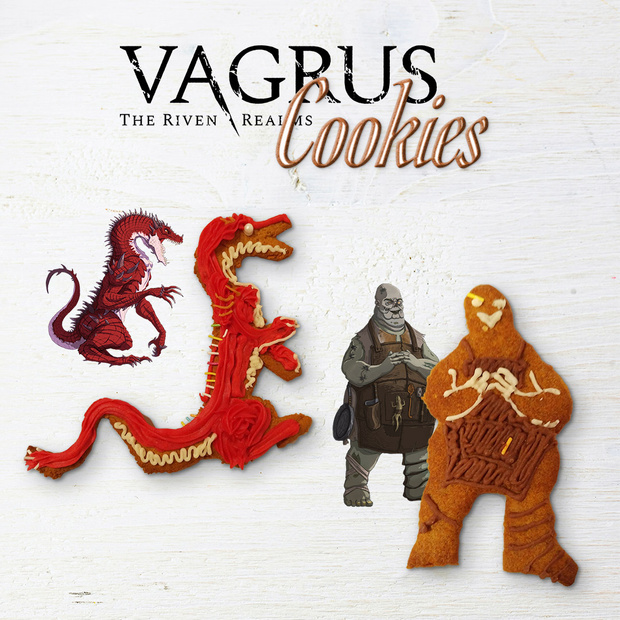 Hey everyone,
and first of all, Happy New Year! We made it to 2021 at last.
We hope you all had the chance to relax during the holidays. 2020 has been a challenging year for us at Lost Pilgrims as much as for anyone else but it also brought a number of things that we really appreciate.
The most recent of these is gingerbread Vagrus fan art. Yes, that's a thing! Besides the Krawag and Vorax, we also received orc marauders and three replicas of the pilgrim with the lamp from our logo. Those have not survived long enough to be part of the final photoshoot, though.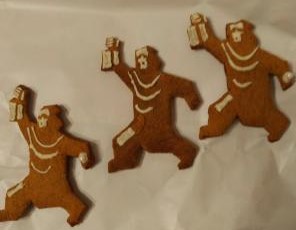 The First Open-World Region
But let's rewind for a bit - to the start of 2020, in fact. It was a year we entered with big hopes, albeit with a lot of uncertainty. In January, we were in a frantic push to share the first open-world region of the game with our Fig and Patreon Backers, finally revealing our true vision for the game. We were all very excited to hear what people thought about it.
On March 26, the time has come to taste the pudding as they say. It was yummy but the crust was a bit too hard: new players struggled with the strategic aspects of Vagrus. After a few weeks, we knew that the game was not ready for an Early Access release in May as we had originally planned. We needed to implement Trade tasks first, along with a number of improvements in other areas.
COVID Impact
Soon after publishing the open-world patch, our team opted to work from home-office. An interim measure, or so we thought at the time. It took some getting used to but eventually, we got the hang of it. The occasional scare that one of us got the virus was not helping our mental health, and we had a storm gathering on the financing side. The private investment round we planned for spring tanked as one by one our candidates pulled out due to the global pandemic. We had to pull our belt in a few notches while working hard to get ready for Early Access and start generating some income. In the end, we held a smaller round of investment the same week that we released the game into EA. It wasn't fun but it bridged the gap until our first revenue share payment.
Early Access on Steam and GOG
After some shuffling around due to the Steam Summer Festival and Summer Sale date changes, we set a course to release the game at the end of July. We knew we were developing a niche game with a lot of reading from the start, so we set our expectations accordingly. Compared to that estimate, our debut ended up being a huge success (while remained modest in the grand scheme of things, of course). Most importantly, it was enough to keep us going.
The amount of initial feedback quite frankly overwhelmed us. At a certain point, we were over two weeks behind with processing our bug reports and other forms of communications we received but gradually worked it down to an acceptable threshold.
From all that insight from players, we gleaned new truths on how we should prioritize the upcoming features and fixes. It quickly became apparent that crew combat needed some additional love first. The good news was that there were plenty of people enjoying the game even in its Alpha state, which gave us hope and strength to march forward.
A Growing Team and Game
We got to know Laci, who joined Lost Pilgrims as a programmer, back in February and kept in contact, with the turbulent times of COVID ever-delaying our target-date for joining forces. His commitment to safely hand over his previous project to his replacement was something we admired a lot and proved that we picked the right person to join our team.
We added new content and features one after the other. Most recently, the largest content drop to date opened up the Deven region with a lot of new things to do. Looking at Steam, one can find many players with 60-70 but some over 150 hours of playtime. It's hard to grasp for how long some folks might play Vagrus when all the content will be added and finalized.
At the end of summer, the team decided to make home-office permanent and we canceled our office rent. With the second wave of the pandemic hitting not very long after, it proved to be a wise decision.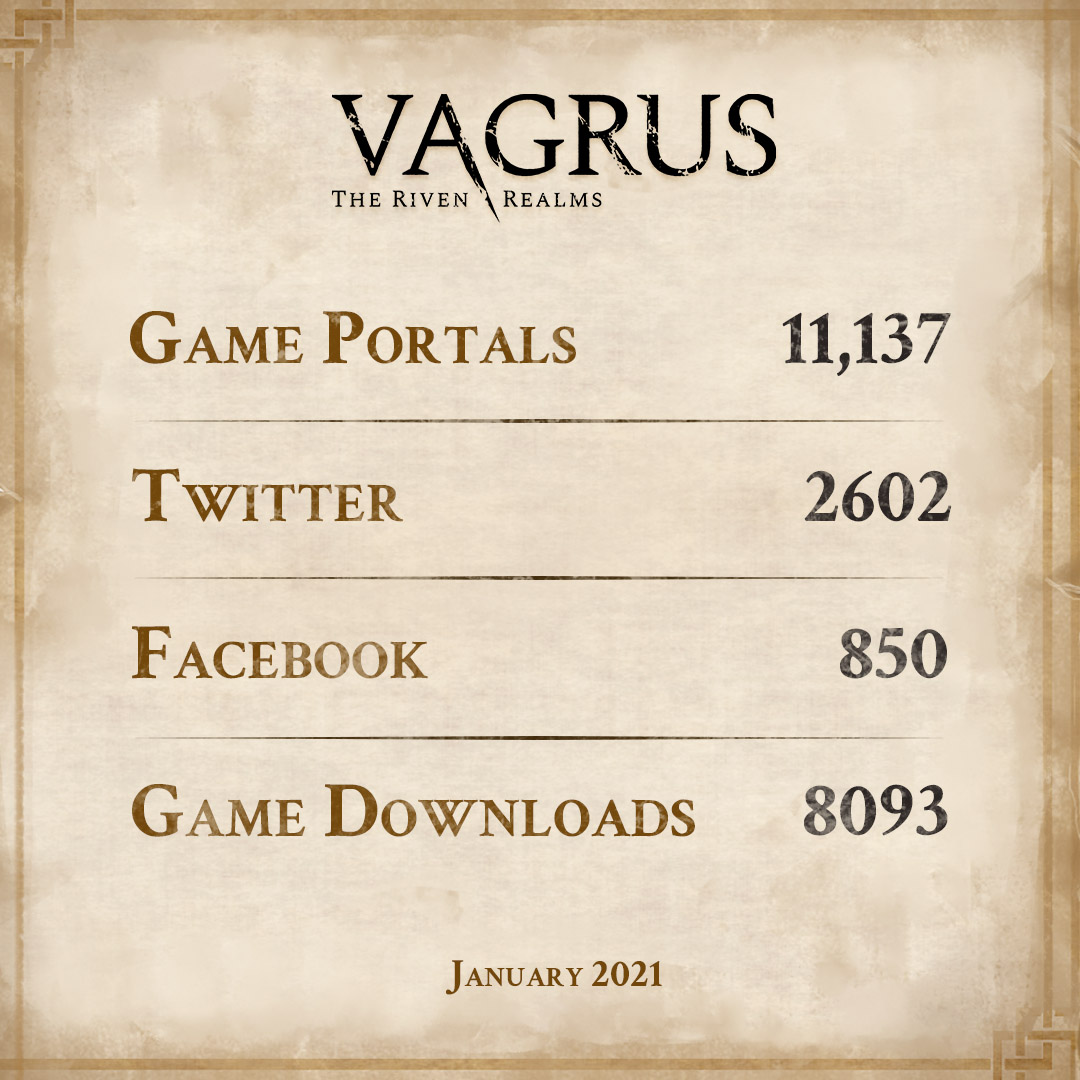 Social Numbers
It's been nine months since we shared our progress in numbers. The trends have been similar to previous years. Traditional social media platforms grew a little but not significantly while the number of our following on gaming portals has more than doubled - a clear sign that most people follow their gaming news where they play.
The good news is that since Vagrus's Early Access release on Steam and GOG back in July 2020, the revenues coming from those platforms cover the cost of our small development team, which means we can safely continue working on the game, adding new features and content with each patch to the great satisfaction of our existing player-base who come back to play and see more of Vagrus.
Perhaps the most significant news of 2020 for our team was that from our Early Access revenues we could expand our crew and so Laci joined us later in the year. He has proven himself an excellent and fitting addition to our team and we have high hopes as to our reinforced ability to deliver a great game during the course of 2021.
We still have a lot to do, of course. First, to add all the regions we plan to include in the final release, then to build on that and develop mid- and end-game content that connects all the places like a web. On the game design and code sides, the biggest ticket will be implementing Mercenary tasks, a feature that is much more complex than the already existing Trading tasks. As it stands, Exploration tasks will likely be added in a post-release patch only but who knows. We have an incredibly long list of other improvements we plan to cover until the 1.0 version, ranging from visual enhancements through complete User Interface revamps to Quality of Life features requested by our players.
We very much look forward to this new year and we'll see what it brings.
Thank you all for everything and cheers,
The Lost Pilgrims Team
--------------------------------------------------
Our crowdfunding campaign is LIVE at Fig.co. Get instant access to the Early Access now!
--------------------------------------------------
Wanna get the game as early as possible with even more content? Please share our pages and posts with your friends through your favorite social media channel(s). Appreciate it!
Fig.co | Steam | Website | Youtube | Twitter | Facebook | Instagram | Patreon | Discord
Steam | GoG | Discord | Patreon | Youtube | Twitter | Facebook | Instagram