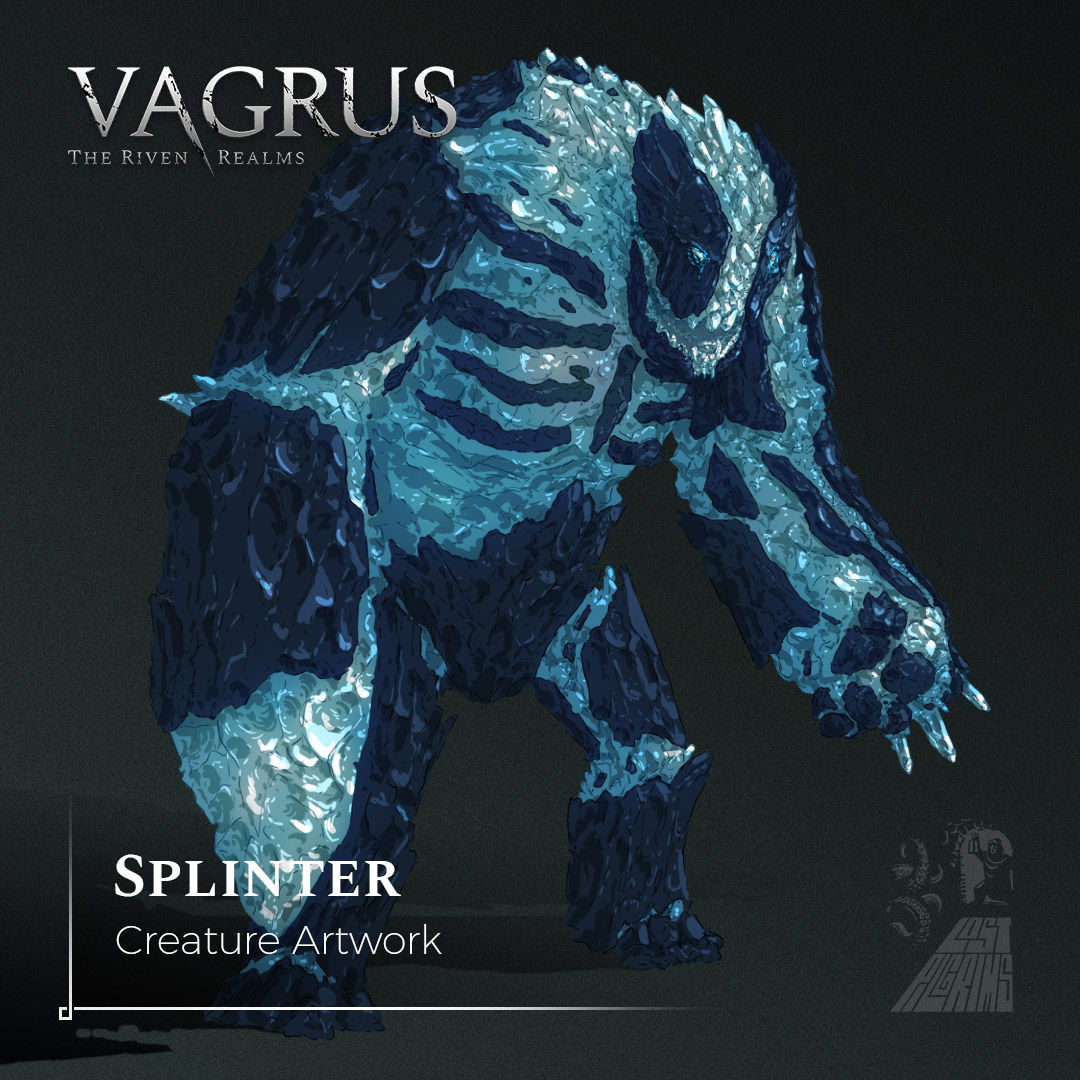 'It came alive, dominus, I swear, the crystal did! There was a light moving inside it. Smashed Daro with a hand big as a cart! It hit Kulwhma so hard she flew across the pit... What could have we done but run, dominus? Please, have mercy!'
- The slave overseer Faez just before being whipped to death for losing a harvest of calerus crystals
'Don't sit up. Keep calm, you need to stay in bed for a while. You lost a leg and hurt your head. But you'll recover. Here. Drink, you'll need to replenish your fluids. Good. And now... tell me about the light inside the crystal creature that did this to you.'
- The Crystalmancer Shebenni to the slave Kulwhma several days after the incident
The beings referred to as Splinters are a mystery yet to be solved. Their emergence several decades ago came as a surprise to the budding crystal harvesting industry at the North and South Calerus. Ever since, mining and gathering crystal has become even more dangerous than before as these hulking crystal creatures attack mostly everyone they encounter. Their bulk is nigh impenetrable, and though they are slow, their powerful attacks can break armor, tools, and bones with ease. Thanks to their completely crystalline structure, it is often very difficult to spot them in the dense caleri before it is too late. No attempt at communication with them has been successful yet - Splinters seem to be antagonistic and alien to other species by default.
In gameplay terms, Splinters are terrifying enemies. They are immune to most status effects and are very resistant to magic. Their tough armor and sturdiness makes them extremely difficult to kill. They can easily present a serious challenge even to experienced comitati.
--------------------------------------------------
Our crowdfunding campaign is LIVE at Fig.co. Get instant access to the Alpha build now!
--------------------------------------------------
Wanna get the game as early as possible with even more content? Please share our pages and posts with your friends through your favorite social media channel(s). Appreciate it!
Fig.co | Steam | Website | Youtube | Twitter | Facebook | Instagram | Patreon | Discord
Steam | GoG | Discord | Patreon | Youtube | Twitter | Facebook | Instagram