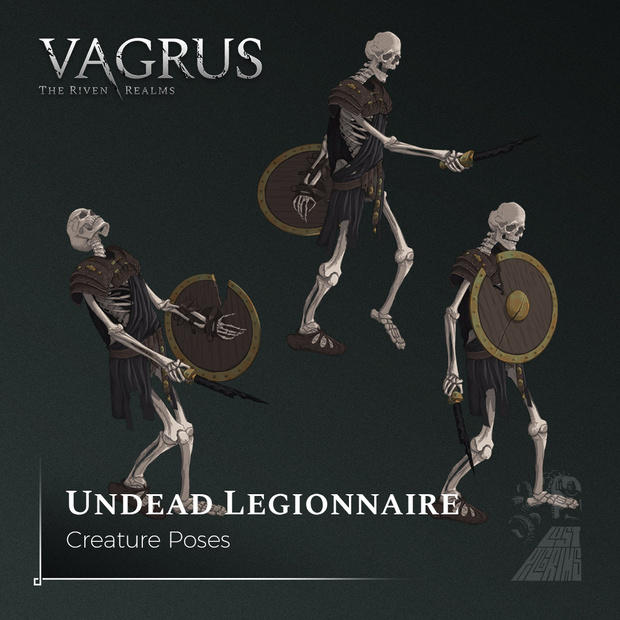 Legionnaires are often not relieved of their duties in the Empire once they die but are resurrected as Undead soldiers to continue serving the Emperor and His Holy Agenda. These mindless, soulless shamblers are then sent against enemies of the Empire in the thousands. They feel no fear - they feel nothing, really.
Sometimes these automatons still carry faded legionnaire equipment and pieces of armor, stumbling forward at the command of their necromantic masters. They are slow yet quite sturdy, their skeletal bodies and worn armor proving difficult for most attacks to damage.
Unliving Stab: This is the only skill of this enemy type, which is neither intimidating nor anything special - a single-target, weak melee attack.
Though no serious threat on its own, the real potential of the Unliving Legionnaire is unlocked when they swarm the battlefield in numbers and especially when they are supported by Necromancers who can buff, heal, and even summon additional units of them.
--------------------------------------------------
Our crowdfunding campaign is LIVE at Fig.co. Get instant access to the Alpha build now!
--------------------------------------------------
Wanna get the game as early as possible with even more content? Please share our pages and posts with your friends through your favorite social media channel(s). Appreciate it!
Fig.co | Steam | Website | Youtube | Twitter | Facebook | Instagram | Patreon | Discord
Steam | GoG | Discord | Patreon | Youtube | Twitter | Facebook | Instagram