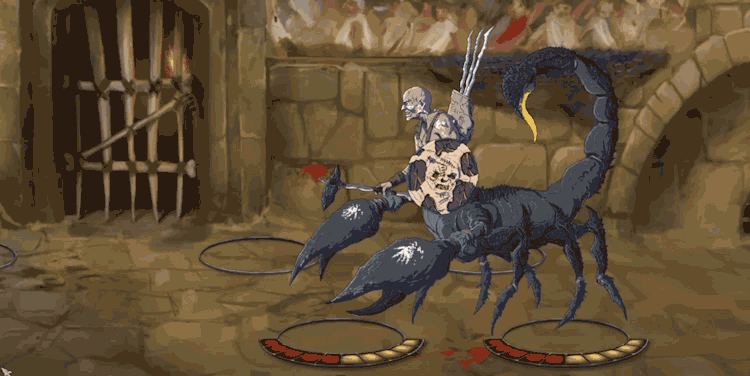 For the last couple of weeks, Szonja has been busy animating our idle characters after we had finally managed to settle on a process. There are still a lot of things to test and work out but after the first few prototypes we came to several important conclusions.
For instance, we decided to have two distinct types of idle combat animations. One would be a very simple 'breathing' anim that is the default one for characters, in an endless loop. The other is a more pronounced movement that sometimes breaks up the more monotonous breathing one. A good example is when Javek fiddles with his goatee or when Gor'Goro brandishes his axe and stomps on the ground. We may even end up using the latter type for character activations in combat.
But for the time being enjoy this gif of a nasty Scortaur savage that provides a glimpse into the future for our Companion combat idles.
The Lost Pilgrims Team
--------------------------------------------------
Our crowdfunding campaign is LIVE at Fig.co. Get instant access to the Alpha build now!
--------------------------------------------------
Wanna get the game as early as possible with even more content? Please share our pages and posts with your friends through your favorite social media channel(s). Appreciate it!
Fig.co | Steam | Website | Youtube | Twitter | Facebook | Instagram | Patreon | Discord
Steam | GoG | Discord | Patreon | Youtube | Twitter | Facebook | Instagram