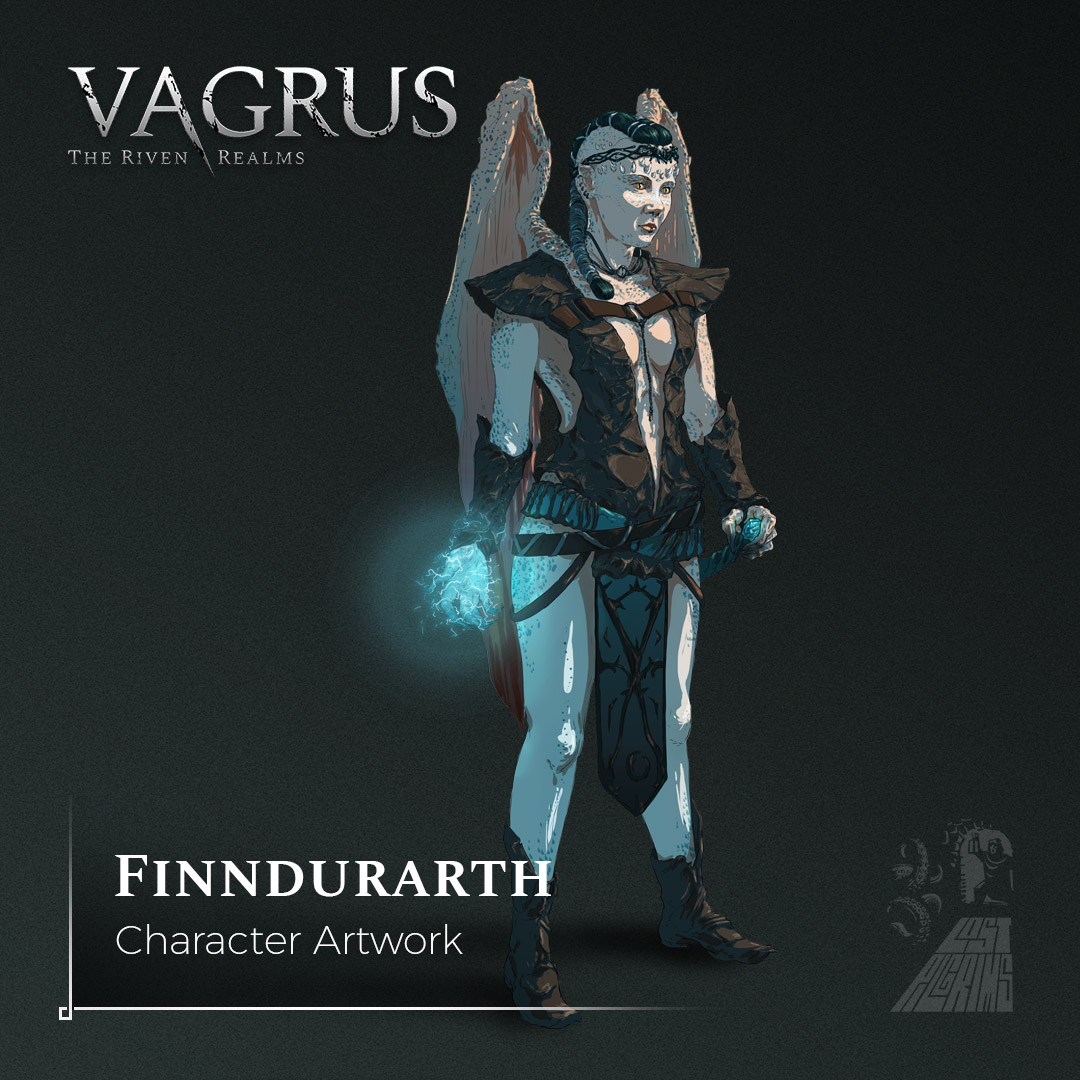 By now you have seen a lot of available Companions from Vagrus, but there are still one or two up our sleeves. So, without further ado, let's talk a bit about Finndurarth, a new and powerful potential addition to your team.
The Dragonmage Finndurarth is the protégé of a powerful noble family from the northern Dragonlands. She has shown signs of arcane affinity from early childhood and was tutored by powerful spellcasters who had unlocked her Flame (the source of magical energy that Dragonmages possess) and taught her how to use it well. However, Finndurarth's exceptional upbringing and brilliant mind would lead her to be discontent with 'simply' being a powerful and influential mage, so she also signed up to become a diplomat, honing her inherent talent for speaking and mediating. Though by no means an expert in either, her diplomatic skills as well as magical abilities make the young Dragonmage a valuable asset for any comitatus. However, her inexperience with journeying through wastelands as well as often naive or idealistic world view can spell trouble for her traveling companions.
In gameplay terms, Finndurarth is a powerful spellcaster unlike any other previous Companion. Her lightning-based attacks can deal with single opponents and groups alike - you only have to be aware of her depleting Power statistic that fuels her spells. She can also cast a protective arcane shield on a friendly target and - thanks to her wings - fly to any empty position on the battlefield. You have to be careful though, because although Finndurarth can dish out a fair amount of damage, she is rather on the squishy side.
As for the artwork (created by Bazsó Lossonczy), the challenges involved her having wings as well as many Draconic features like small horns, several different skin tones, inhuman eyes, claws, and more, and yet she had to look likeable and even a bit naive. We are very satisfied with the outcome, and in Finndurarth we see a Companion who is very much apart from the others in look and design yet fits well into the established art style.
The Lost Pilgrims Team
--------------------------------------------------
Our crowdfunding campaign is LIVE at Fig.co. Get instant access to the Alpha build now!
--------------------------------------------------
Wanna get the game as early as possible with even more content? Please share our pages and posts with your friends through your favorite social media channel(s). Appreciate it!
Fig.co | Steam | Website | Youtube | Twitter | Facebook | Instagram | Patreon | Discord
Steam | GoG | Discord | Patreon | Youtube | Twitter | Facebook | Instagram